Vivien Gold Mine
The Vivien gold deposit is located near the Agnew Gold Mine, 15 km west of the town of Leinster in Western Australia.
The underground project commenced in May 2015. Ore will be accessed via a decline driven from the existing Vivien pit. Initial project works were completed in the second quarter of 2015 with completion of a small pit cutback at the portal position, pit dewatering, site layout and infrastructure. The decline was commenced in June 2015. It will be driven 100 vertical metres to access the lode position beneath the historic underground workings. Ore development will commence in late 2015.
The deposit is a high grade vein style deposit and has resources of 185,000 ounces of gold. See ASX release 'Resource boost for Vivien high grade gold project', 1 April 2014, for detailed Mineral Resource information.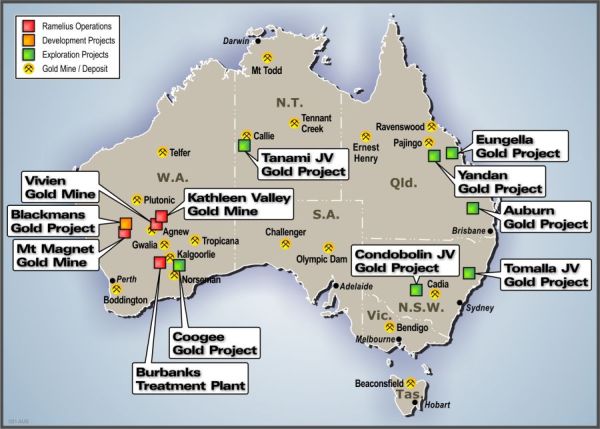 Historical underground production from the Vivien leases between 1902 and 1911 totalled 76,000 oz at an average grade of 12.4 g/t Au. The Vivien open pit was mined between 1997 and 1998 and produced 410,000 tonnes at 2.70 g/t Au for 35,600 oz.
During 2013, Ramelius undertook resource and exploration drilling of the deposit and completed a mining feasibility study and statutory approvals. A mining inventory of 400,000 t at 7.9 g/t for 109,000 oz was generated. Details of the study are available in ASX release 'Vivien Gold Mine Feasibility Study Completed', 30 May 2014.
The current mine plan spans 3 years and will develop the decline to 300m vertical depth. Further resource infill and exploration drilling will be conducted once the decline reaches 250m below surface.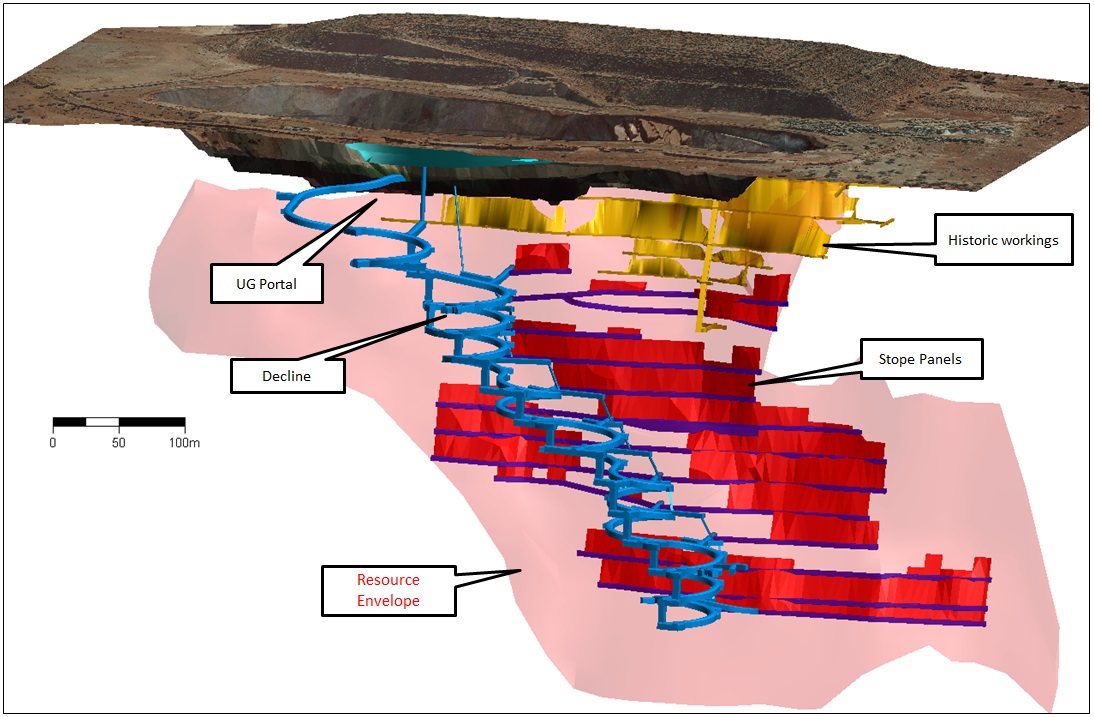 The Vivien deposit is characterised by a quartz vein hosted by a dolerite-gabbro unit. The veins trend 028° magnetic and dips steeply (70°) to the SE. The host dolerite-gabbro sill (Vivien Dolerite) has a horizontal thickness of ~ 600 metres with an ultramafic unit in the structural footwall (west) and sedimentary sequences in the hangingwall (east).
The quartz vein/lode averages 2.7m width and has significant strike and dip continuity (≈500m). Higher grade shoots occur within the lode and plunge moderately to the NE. The high-grade zones are generally wider and sulphide rich, with pyrrhotite and arsenopyrite as the dominant sulphide species. The alteration halo associated with gold mineralisation is generally narrow and vein contacts with the host dolerite are generally very competent.