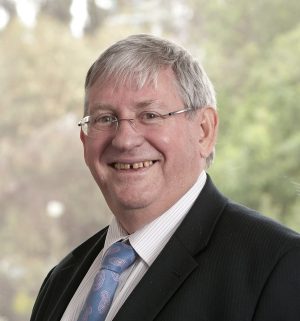 Robert Michael Kennedy
R.I.P – IN MEMORY OF:
KJS, ASAIT, Grad. Dip (Systems Analysis), Dip Financial Planning & Financial Services, FCA, CTA, AGIA, Life member AIM, FAICD, MRSASA.
INAUGURAL NON-EXECUTIVE CHAIRMAN
Mr Kennedy sadly passed away on 20 March 2018, following a short illness. He was a well-known, accomplished Chartered Accountant who was highly respected in the business community.
Mr Kennedy was the founding Chairman of Ramelius Resources Limited since its ASX listing on 31 March 2003 and was instrumental in guiding the Company's growth from a junior explorer to a well-established and successful gold producer.

Bob Vassie
FAusIMM GAICD
NON-EXECUTIVE CHAIR
Mr Vassie is a mining engineer with 35 years multi-commodity and international experience. Mr Vassie spent 18 years with Rio Tinto in global mining and resource development executive roles followed by MD & CEO positions in Ivanhoe Australia and St Barbara Ltd with a focus on executive leadership, resource development and business development including M&A.
Mr Vassie served as a board member for the Minerals Council of Australia from 2014 to 2020 where he chaired the MCA Gold Forum and currently serves on the AusIMM Council for Diversity and Inclusion.
Mr Vassie was appointed Non-Executive Chair in January 2021.

Mark Zeptner
BEng (Hons) Mining, MAusIMM, MAICD
MANAGING DIRECTOR
Mr Zeptner is a mining engineer and is the Managing Director.
He was educated at the Western Australian School of Mines in Kalgoorlie and has more than 25 years' experience including senior operational and management positions with WMC and Gold Fields Limited at their gold and nickel assets in Australia and offshore.
He joined Ramelius as Chief Operating Officer in March 2012, took up the reins as Chief Executive Officer in June 2014 and was appointed Managing Director in July 2015.

David Southam
B.Comm, CPA, MAICD
NON-EXECUTIVE DIRECTOR
Mr Southam is a Certified Practising Accountant with more than 25 years' experience in accounting, capital markets and finance across the resources and industrial sectors. Mr Southam has been intimately involved in several large project financings in multiple jurisdictions and has completed significant capital market and M&A transactions.
Mr Southam was appointed Non-Executive Director in July 2018, and is Chair of the Audit and Risk Committee.

 Natalia Streltsova
MSc, PhD (Chem Eng), GAICD, MSME, MCIM.
NON-EXECUTIVE DIRECTOR
Natalia Streltsova is a PhD qualified Chemical Engineer with + 25 years' minerals industry experience, including over 10 years in senior technical and corporate roles with mining majors – WMC, BHP and Vale. She has a strong background in mineral processing and metallurgy with specific expertise in gold and base metals.
Dr Streltsova has considerable international experience covering project development and acquisitions in Africa, South America and in the countries of the Former Soviet Union.
Dr Streltsova was appointed Non-Executive Director in October 2019, and is Chair of the Risk & Sustainability Committee.

Fiona Murdoch
LLB (Hons) MBA GAICD
NON-EXECUTIVE DIRECTOR
Ms Murdoch is a lawyer and senior executive leader with over 30 years of commercial and operational experience in the resources and infrastructure sectors in Australia and internationally, including with MIM Holdings, Xstrata Queensland the AMCI Group.
She is a Non-Executive Director of listed resources companies NRW Holdings Ltd (ASX: NWH) and Metro Mining Ltd (ASX: MMI) and also serves on the Australian Premium Iron Joint Venture Committee for AMCI and POSCO.
Past directorships include infrastructure statutory body Building Queensland, KGL Resources Ltd (ASX: KGL) and metallurgical services and technology company Core Resources Pty Ltd.
Ms Murdoch was appointed Non-Executive Director in December 2021.

Richard Jones
LLB, FINSIA (Grad Dip), BA (Hons) Pol Sci/Econs
GENERAL MANAGER – LEGAL/HR/COMPANY SECRETARY/RISK & SUSTAINABILTY 
Mr Jones joined Ramelius in October 2018.  He has more than 20 years' experience as a corporate commercial lawyer in both private and in-house capacities and across various industries. He has also served as company secretary for ASX listed and unlisted companies  in the mining sector.

Tim Manners
BBus (Accounting), FCA, AGIA, MAICD.
CHIEF FINANCIAL OFFICER
Mr Manners is a finance professional with over 20 years experience in accounting, corporate finance and financial management functions in the resources industry. Mr Manners has been involved in exploration, developing and producing companies both in Australia and overseas.
Mr Manners has held the senior financial position in companies within the precious, base and bulk commodities sectors, including Gold Road Resources Ltd, Phoenix Gold Ltd, Bathurst Resources Ltd and Perilya Ltd. Mr Manners joined Ramelius Resources Limited in July 2017 and is a Fellow of the Institute of Chartered Accountants in Australia and New Zealand.

Duncan Coutts
BEng (Hons) Mining, MAusIMM, MAICD
CHIEF OPERATING OFFICER
Mr Coutts is a qualified mining engineer with more than 20 years resource industry experience. He holds a Bachelor of Engineering (Hons) in Mining Engineering from the Western Australian School of Mines in Kalgoorlie. Recently he has been providing technical and operational consulting services to iron ore and gold focused mining companies. Prior to this consulting work, Duncan was CEO of the privately owned iron ore producer Kimberley Metals Group, located in the Kimberley region of Western Australia. Mr Coutts has also held positions of General Manager – Development with ASX listed Galaxy Resources Ltd, Chief Development Officer with ASX listed Metals X Ltd, and Chief Operating Officer for Harmony Gold Australia where he was responsible for the management and project development of operations in Western Australia, Northern Territory and Papua New Guinea.

Peter Ruzicka
MSc, BAppSc, BSc, MAusIMM
GENERAL MANAGER – EXPLORATION
Mr Ruzicka is a Geologist with over 20 years experience in the mining industry, focussing on both Greenfields Exploration and Resource Development of near-mine areas.
Most recently Peter was General Manager – Geology & Exploration of Norton Gold Fields Pty Ltd, leading a successful team in the Kalgoorlie region of Western Australia to generate a substantial increase in gold resource and reserve for the Company, through exploration and resource development success, as well as acquisition. Prior to Norton, Peter was Exploration Manager for CopperCo Limited, a leading member of a team responsible for large copper resource and reserve increases prior to mining start-up at Mt Isa, Queensland. He has also spent time in senior and managerial positions with previous leading gold producers Sons of Gwalia Ltd and Dominion Mining Ltd.
Mr Ruzicka has extensive local and international experience. Peter has had geographic exposure to gold and/or base metal deposits throughout Australia (WA, Qld and NT), Asia (China, Indonesia, Papua New Guinea, Philippines), Africa (Mozambique, Zambia, Namibia, South Africa), and the USA (Alaska). Within the Yilgarn Gold Province of WA, his experience includes exposure to gold operations at Kalgoorlie, Southern Cross, Leonora, Laverton and Meekatharra.