Tanami JV Project – Ramelius earning 85%
Location and Access:
The Tanami Joint Venture Gold Project is located 520km west northwest of Alice Springs and 840km east southeast of Broome (Western Australia) in the central Australian Tanami Desert.  Access to the project is via the graded Tanami Road from Alice Springs.
Background:
Ramelius Resources Ltd entered into a farm-in and joint venture agreement with ASX listed Tychean Resources (ASX:TYK) in May 2014.  Under the terms of the farm-in and joint venture agreement Ramelius may earn 85% interest in the package of eight exploration licences by spending $500,000 on exploration within three years.  Tychean will be free carried to a decision to mine, at which time it may elect to contribute or convert to a 1.5% net smelter return (NSR) royalty.
Geology and Mineralisation:
The Tanami JV Project is located within 100km of Newmont's Granite's Treatment Plant and their plus 6.0Moz Callie Gold Mine.  The district remains highly prospective, as an under-explored gold province in Australia.  The region consists of lower Proterozoic variably metamorphosed sedimentary and volcanic rocks of the Granites-Tanami Block and sediments of the Birrindudu Basin.  The Proterozoic rocks are overlain by Cambrian Antrim Plateau basalts.
There is a lack of outcrop in the Tanami and the regolith is complicated by a network of palaeochannel drainages, east west trending longitudinal sand dune sets and post mineralising basalt flows (up to 60m thick) which have hampered/restricted exploration programmes in the past.
Gold mineralisation in the Tanami district occurs in a variety of host rocks including iron formations, mafic sills, turbidites and siltstones/greywackes in a range of litho-structural settings.  The Company intends to focus on discovering buried Callie-type gold deposits within magnetically quiet laminated and decalcified sedimentary stratigraphy and hence not subjected to historical more typical magnetic dolerite and/or magnetic BIF hosted gold deposits in the Tanami.
Exploration is currently focused on the two Highland Rocks ELs located 100km south of the Callie gold mine.
Suplejack EL26625 reconnaissance plus infill RC drilling (250m centres) and interface gold anomalism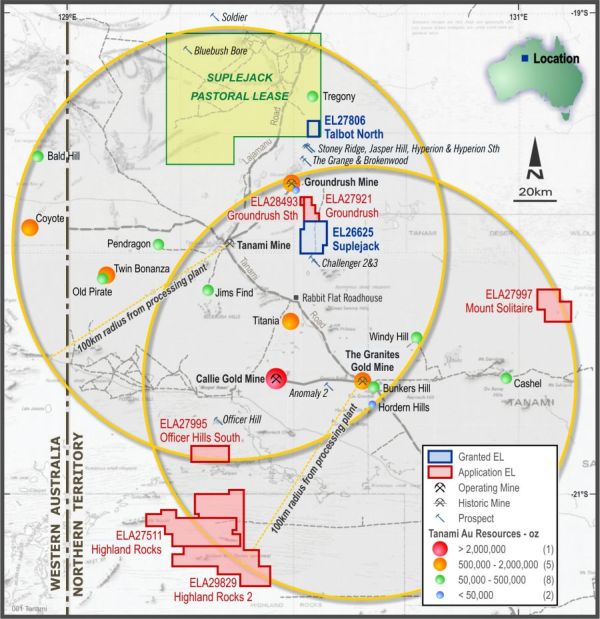 Tanami Project Location – showing the five granted ELs and three EL applications relative to the Callie Gold Mine and Granites Treatment Plant owned by Newmont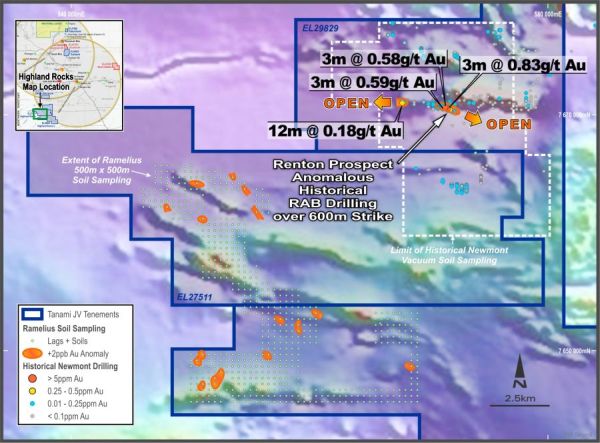 Highland Rocks Project ELs showing anomalous gold results returned from previous explorers over the Renton Prospect area, the focus on on-going exploration by Ramelius