Kathleen Valley Gold Exploration Project – Ramelius 100% (Gold Rights Only)
Location and Access:
The Kathleen Valley gold project is located 50km north of the Leinster township in WA and is accessed via the sealed Goldfields Highway leading north from Leinster.
Background:
Ramelius successfully completed open pit mining at Kathleen Valley late in the September Quarter 2016.  The Company has mined 476,269 tonnes of ore for approximately 64,000oz of gold from the Mossbecker, Yellow Aster and Nil Desperandum open pits since June 2015, while final mill reconciliations are awaited.  The high grade open pit ore was processed at the Company's Checker Treatment Plant at Mount Magnet.
A binding conditional Tenement Sale Agreement was signed with Liontown Resources Limited (ASX: LTR) during the September Quarter 2016 for Liontown to acquire all the Kathleen Valley Project tenements, including 100% of the rare metal rights (lithium, tantalum and associated metals).  Under the terms of the Tenement Sale Agreement Ramelius retains 100% of the gold rights to the tenement package and will continue to explore for deeper gold exploration targets within the project.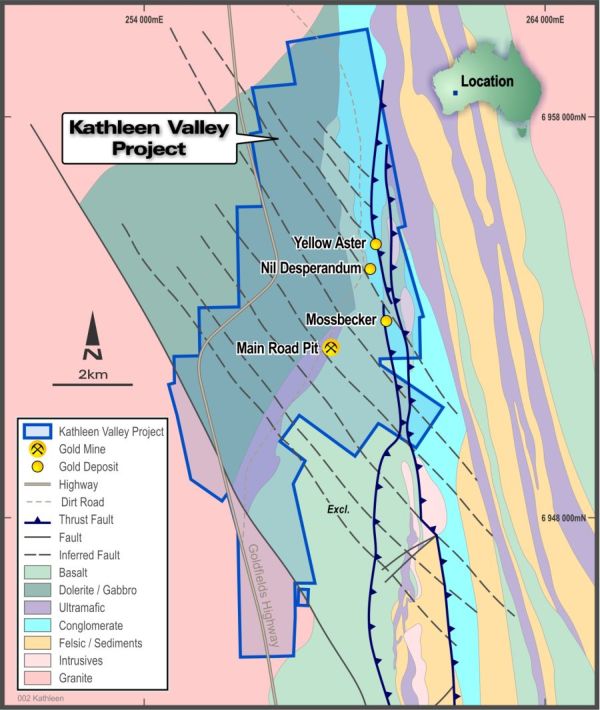 Geological Modelling and Targeting:
Exploration at Kathleen Valley is focused on finding faulted offsets to the Mossbecker, Yellow Aster and Nil Desperandum deposits following the discovery by previous explorers of deeper, displaced mineralisation within the Boris Zone, below the Mossbecker deposit.
Potential is seen to identify a series of stacked, flat lying, shallow plunging mineralised shoots extending away from Mossbecker at depth.  Deeper drilling is proposed to enable Ramelius to map out the continuity of the displaced mineralisation.
Long section (LHS) and cross section (RHS) through the Boris Zone interpreted as downthrown from the open pittable Mossbecker deposit