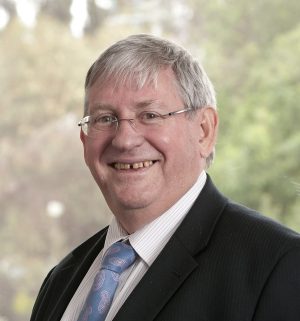 R.I.P
IN MEMORY OF:
Robert Michael Kennedy
KJS, ASAIT, Grad. Dip (Systems Analysis), Dip Financial Planning, Dip Financial Services, FCA, CTA, AGIA, Life member AIM, FAICD, MRSASA.
INAUGURAL INDEPENDENT NON-EXECUTIVE CHAIRMAN
It is with great sadness that Ramelius Resources Limited advises of the untimely passing of Non-Executive Chairman, Bob Kennedy on 20 March 2018.
Mr Kennedy was a well-known, accomplished Chartered Accountant who was highly respected in the business community.
Mr Kennedy was the founding Chairman of Ramelius Resources Limited since its ASX listing on 31 March 2003 and was instrumental in guiding the Company's growth from a junior explorer to a well-established and successful gold producer.
The remaining Directors record their high respect for Bob Kennedy and what he achieved for Ramelius.
Mark William Zeptner
BEng (Hons) Mining, MAusIMM, MAICD
MANAGING DIRECTOR
Mr Zeptner has more than 20 years' experience in senior operational and management positions associated with major gold and nickel assets in Australia and offshore and has been a director since 2015.
Mr Zeptner is the Company's Chief Executive Officer.
Michael Andrew Bohm
B.AppSc (Mining Eng.), MAusIMM, MAICD
INDEPENDENT NON-EXECUTIVE DIRECTOR
Mr Bohm is a graduate of the WA School of Mines and has been a director since 2012. Mr Bohm brings to the Board his extensive experience as a mining professional with extensive corporate and operational management skills in the minerals industry in Australia, South East Asia, Africa, Chile, Canada and Europe.
Mr Bohm is Chairman of the Nomination and Remuneration Committee and member of the Audit and Risk Committee.
Kevin James Lines
BSc (Geology), MAusIMM, MAICD
INTERIM INDEPENDENT NON-EXECUTIVE CHAIRMAN
Mr Lines has extensive experience in mineral exploration and mining for gold, copper, lead, zinc and tin and has been a director since 2008. Mr Lines brings to the Board his extensive experience in the assessment and evaluation of exploration projects and development of properties and mining operations overseas.
Mr Lines was appointed Interim Independent Non-Executive Chairman following the passing of Inaugural Chairman, Bob Kennedy. Mr Lines is Chairman of the Audit and Risk Committee and the Due Diligence Committee and member of the Nomination and Remuneration Committee.
Domenico Antonio Francese
B.Ec., FCA, FFin, ACIS, AGIA.
COMPANY SECRETARY
Mr Francese is a Chartered Accountant with an audit and investigations background and more than 12 years' experience in a regulatory and supervisory role with ASX. He has been employed by Ramelius Resources Limited since 1 April 2003 and was the inaugural Chief Financial Officer until 1 November 2015. Mr Francese is a Fellow of Finsia and an Associate member of the Governance Institute of Australia and the Chartered Institute of Secretaries.
Tim Manners
BBus (Accounting), FCA, AGIA, MAICD.
CHIEF FINANCIAL OFFICER
Mr Manners is a finance professional with over 20 years experience in accounting, corporate finance and financial management functions in the resources industry. Mr Manners has been involved in exploration, developing and producing companies both in Australia and overseas.
Mr Manners has held the senior financial position in companies within the precious, base and bulk commodities sectors, including Gold Road Resources Ltd, Phoenix Gold Ltd, Bathurst Resources Ltd and Perilya Ltd. Mr Manners joined Ramelius Resources Limited in July 2017 and is a Fellow of the Institute of Chartered Accountants in Australia and New Zealand.
Duncan Coutts
BEng (Hons) Mining, MAusIMM, MAICD
CHIEF OPERATING OFFICER
Mr Coutts is a qualified mining engineer with more than 20 years resource industry experience. He holds a Bachelor of Engineering (Hons) in Mining Engineering from the Western Australian School of Mines in Kalgoorlie. Recently he has been providing technical and operational consulting services to iron ore and gold focused mining companies. Prior to this consulting work, Duncan was CEO of the privately owned iron ore producer Kimberley Metals Group, located in the Kimberley region of Western Australia. Mr Coutts has also held positions of General Manager – Development with ASX listed Galaxy Resources Ltd, Chief Development Officer with ASX listed Metals X Ltd, and Chief Operating Officer for Harmony Gold Australia where he was responsible for the management and project development of operations in Western Australia, Northern Territory and Papua New Guinea.