Milky Way/Stellar/Stellar West
The Milky Way-Stellar project area is located 3.6km south-west of the Checkers processing plant at Mt Magnet.
The existing 67m deep, Milky Way pit was mined in 1999 to 2000 and produced 627,000t @ 1.64g/t for 33,073 ounces of gold. Stellar was mined in the early 1990's and produced 213,000t @ 2.98g/t for 20,428 ounces of gold. Stellar West has not been previously mined.
Gold mineralisation occurs as a stockwork style of sericite-silica-pyrite veining and alteration within felsic porphyry units intruded into ultramafic flow sequences. Gold mineralisation tends to occur along felsic margins adjacent to the ultramafic contact. At Milky Way the HW ultramafic contains a number of intercalated narrow felsic units which are frequently mineralised.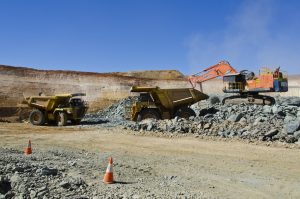 Following significant exploration and resource infill drilling at Milky Way in 2015/16, Ramelius announced a new Mineral Resource and Ore Reserve for its Annual Resources and Reserves Statement (ASX release: 30/09/16).
A 130m deep pit at Milky Way contains a Probable Ore Reserve of 1.875Mt @ 1.3g/t for 78,000oz.
Additional exploration drilling has been carried out at the nearby Stellar and Stellar West deposits. Initial scoping work suggests viable open pits on each of these deposits and further resource drilling and modelling, pit optimisation, pit design, geotechnical investigation is in progress.